Christmas for me this year came with a lot of surprises and also a lot of melodramatics. I thought to myself can I seriously catch a break? Apparently that wasn't the time to break, it was potential pop off time. Christmas was literally the eye of the storm. With that said, I'm glad the holidays are over and I am soooo happy that the past and last year's nightmare is behind me! My holiday was spent with the people who wanted to spend it with me and that's all that I could ask for.
My sisters are getting so big!! I can't even keep up. Most of the time I'm baffled that they can empathize or understand the things I confide to them. Nothing that I've done could've been done without them. These girls are the fuel that pushes me to do my best. 100% of the time I do what I do because I feel obligated to be their example.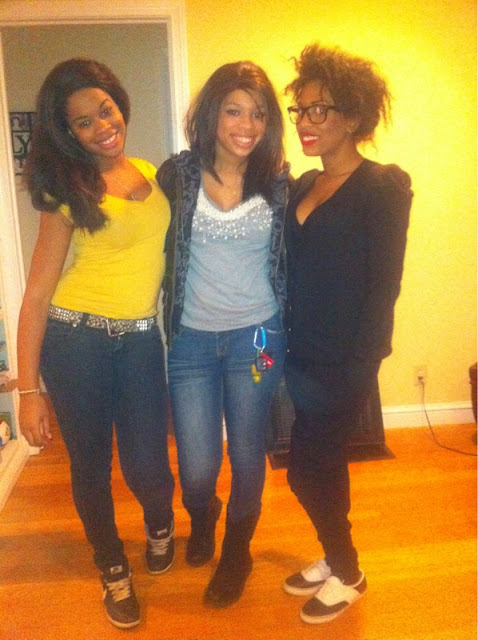 We paid my Dad a visit to deliver him & our tiniest baby sister their gifts.
The clothes I wore that day were all gifts and amazing ones at that from BCBG of course.
The slacks are dress pants and I'm enamored with every detail. You can't see the details with my crappy camera phone but the pockets are wide pleated while the legs of the pants are a "skinny" fit. That combination creates a harem look! And, they also have a satin tuxedo stripe that lines the side of the pant legs. I swear, I rock these slacks at work all the time. They compliment every item perfectly with an avant garde twist. My sweater is BCBG also and it was created with fibers from plastic bottles. I was being fashionable and yet green! The rest of the outfit was topped off with my thick rimmed Buddy Holly styled glasses and those goregeous brand new saddle shoe Vans.
SWEET!
Fun with the sissy!
Okay, okay, I'm not sure if there is
anyway to explain myself with this image to the left but I'm going to try!
As you all know I've been tryong to stay optimistic, so despite being down I continued to do things that would have me ROLLIN'! The obsession & LOVE I have for Shia is known already, I don't have to dig into that. You know, my mom knows, hell, YOUR mama knows! I played around on my iPhone and made some hilarious family holiday cards. This one was from myself and my deliciously dapper husband. Oh yeah, I was bold enough to send it out! HAHA!
Soon after the successful giggles from my friends I was inspired to continue my madness with my girlfriends.
My girlfriend Justina ADORES Ryan Gosling, so I conjured one up for her.
LMAO.
And last but not least wiith the madness was my girl Gilda. Regrettably she loves Edward so I took a few photos of her and pretty much photos of Robert Pattinson with the same facial expression and made magic!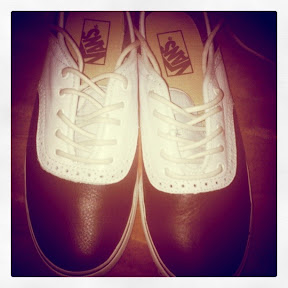 These babies are beauts! Right? Probably my favorite purchase of the year! Sometimes you gotta treat yo'self!
All in all I received great gifts ( a kindle, classic films, Tiffany & Co. jewelry, a facial kit, a gold necklace and a free spa day) but most importantly spent it with the ones who are down at the end of the day; my family.
Hope your holidays were all that and more!